With the global industrial transfer and technology upgrade, a group of leading flat display panel manufacturers from mainland China is taking the opportunities and competing in the global market with their predecessors from South Korea and Taiwan.
Definition of flat display panel: Mainly divided into LCD and OLED panels
Flat display panel (FDP) mainly refers to the display technology used for electronic devices such as televisions, desktops, laptops, and mobile phones. Today is the age of information. The role of information display technology in people's social activities and daily life is increasing rapidly. 80% of human information is obtained from vision, and the interaction between various information system terminal devices and people needs to be realized through information display.

The panel industry has become the leader of the optoelectronic industry, second only to microelectronics in the information industry, and has become one of the most important industries.
Display panel products mainly include liquid crystal panels (LCD), plasma panels, and organic light-emitting diode panels (OLED). At present, plasma panels have been completely withdrawn from the market due to factors such as large thickness, low resolution, and high price.
| Performance | LCD Panel | OLED Panel | Plasma Panel |
| --- | --- | --- | --- |
| Light Output | Better | Better | Average |
| Blackness | Average | Better | Good |
| Contrast Ratio | Average | Better | Good |
| Resolution | Good | Good | Average |
| Viewing Angle | Average | Good | Better |
| Power Consumption | Average | Low | Low |
| Price | Average | High | High |
| Lifespan | Good | Average | Good |
Source: Forward-The Economist
Table1. Comparison of Main Flat Display Panel Products
The competition and change of flat panel display industry in the world
FPD is a huge industry, the global market size has exceeded 100 billion US dollars. And it is a heavy asset investment. A high-generation production line often requires an investment of 30-40 billion RMB. Such a huge investment also directly drives the development of upstream in equipment and materials.
From West to East
On the other side, the display panel industry is a particularly typical case of the "Eastward spread of Western Culture ". The production capacity is transferred from the United States to the Chinese mainland step by step, following the route of "the origin from the United States – the development byJapan – the overtaking by South Korea – the rise of Taiwan area – scale and further development in mainland China".
In 1962, Radio Corporation of America(RCA) developed the first LCD display model, and then relevant technologies were introduced to Japan, which made a crazy investment in LCD. By the 1990s, Japanese enterprises had almost forestalled the entire LCD market. Enterprises with the spirit of "LCD craftsman" represented by Sharp have made contributions to the research and development of LCD technology.
In the mid-1990s, South Korea took advantage of the trough of the liquid crystal cycle to expand substantially and replaced Japan's position around 2000. By 2009, BOE from mainland China announced the construction of the 8.5 generation line, breaking the technical blockade of Japan, South Korea, and Taiwan. Subsequently, Japanese and Korean companies such as Sharp, Samsung, and LG finalized the plan to build the 8th generation line in China at an alarming speed. Since then, mainland China's LCD industry has entered a period of rapid expansion for ten years.
LCD Panel: Nowadays, China ranks first in global production capacity
Until 2008, China's LCD panels were still completely dependent on imports. Even in China's annual consumption of imported materials, LCD panels ranked fourth after oil, iron ore, and chips.
After development in recent years, China's panel industry has caught up from behind. In 2015, the LCD panel production capacity accounted for 23% of the world in total. With the Korean manufacturers having announced to withdrawal from LCD and turn to OLED, the global LCD production capacity has further gathered in mainland China. In 2020, China's LCD production capacity has already ranked first in the world, and mainland produced about half of the – LCD panels global.

At present, Chinese LCD manufacturers are mainly focusing on the further layouts of high-generation LCDs. From 2020 to 2021, in mainland China, BOE, TCL, HKC, and CEC will successively put into production a total of 8 important production lines larger than 7-generation.
Panel
Manufacturers
Production Line
Start of Production
New Capacity by Qty
(front pieces/season)
New Capacity by Area
(10000 square meters/season)
BOE
Hefei 10.5 generation line (B9)
2020Q2
45
45
Wuhan 10.5 generation line (B17)
2020Q3
180
178
TCL
Shenzhen 11 generation line (T7)
2020Q3
180
178
Shenzhen 11 generation line (T7)
2021Q3
90
89
HKC
Chuzhou 8.6 generation line (H2)
2020Q2
225
132
Mianyang 8.6 generation line (H4)
2020Q2
360
211
CEC
Changsha 8.6 generation line (H5)
2021Q2
396
232
Xianyang 8.6 generation line (H5)
2020Q2
36
21
Source: HIS, Forward-The Economist
Table 2: 2020-2021 Major LCD panel production lines of more than 7 generations distributed by manufacturers in Mainland China
The epidemic era caused the panel price rise, and the Korean factories delayed their withdrawal from the LCD market
In 2020, the outbreak of the global epidemic has led to the adoption of blockade measures around the world. The mode of remote working and learning has led to a consumption surge of laptop electronic terminal products, overlapping the shortage of upstream materials, the global panel entered a new round of price rise cycle in June 2020.
According to WitsView quotes, the average price of 55″W (3840 x 2160) panels has risen from $103 in June 2020 to $176 in early January 2020, up $73 in just seven months.
In order to ensure the normal panel supply to their own terminals, both Samsung and LGD have announced a delay in closing the LCD production line. At present, LG P7 and P8 production lines are definitely delayed to exit completely by the end of 2021. Samsung L7-2 is planned to be shut down in the first quarter of 2020, and has not given a clear exit schedule for the remaining two lines of L8-1 and L8-2.
Panel
Manufacturers
Production Line
Generation
Start of Production
Current Capacity (K/month)
Stop of Production
by Area
(10,000 square meters/season)
Planned Exit Schedule
Remarks
Samsung
L7-2
G7
2006
165
136
Completely exit in 2021Q1
\
18-1
G8.5
2008
230-250
248
Delayed Exit
\
L8-2
G8.5
2009
241
Delayed Exit
\
LGD
P7
G7
2006
140
158
Completely exit by the end of 2021
\
P8
G8.5
2009
100
198
Completely exit by the end of 2021
Basically no TV panel in production
P6
G6
2004
55
\
\
\
P9
G8.5
2012
140
\
\
Production resumed
Source: IHS, Omdia, DSCC, Forward-The Economist
Table 3: Samsung and LGD existing large-size LCD production capacity and planned exit schedule
OLED Panel: Samsung is the dominant company in OLED market, and domestic manufacturers in China actively layout
The OLED market is currently dominated by Korean manufacturers. Samsung's mature AMOLED technology and sufficient production capacity have absolute advantages, and the strategic cooperation with the brands goes more in-depth in 2019. According to Sigmaintell, its OLED market share reached 85.4% in 2019, of which the flexible OLED was also as high as 81.6%.
In parallel, Chinese manufacturers have also actively deployed the OLED market in recent years, especially in flexible products. Currently, BOE has a total of 6 OLED production lines under construction.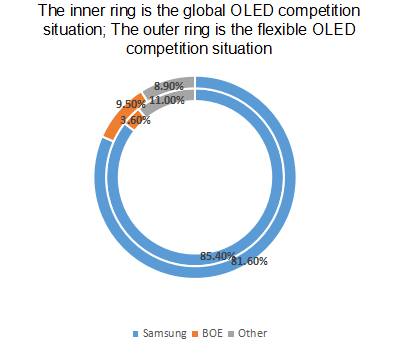 Competition and Leading Flat Display Panel Manufacturers in China
Regional competition situation: the regional pattern of China's panel industry is obvious
From the perspective of the regional distribution of enterprises in the panel supply chain, panel enterprises are mainly distributed in coastal provinces.
Mainly divided into four industrial areas:
Northern China Industrial Zone: represented by Hebei and Beijing;
Eastern China Industrial Zone: represented by Zhejiang, Jiangsu, Shanghai, and Shandong;
Southern China Industrial Zone: headed by Guangdong and Fujian Province;
Southwest Industrial Zone: represented by Sichuan.
Enterprise competition situation: China panel enterprises have a high market concentration
From the perspective of market distribution, most manufacturers have sales channels both in domestic and abroad, with a wide range of products except Everdisplay only focus on China.
From the perspective of competitiveness, BOE and Tianma are currently more competitive in the panel industry both accounting for more than 98% of panel-related business.
Visionox, CPT Technology, and other manufacturers followed closely.
Everdisplay and IVO have a low output of panels, and their competitiveness is relatively behind.
Panel
Manufacturers
Proportion of Panel Business
Market Layout
Output / Value of Production
Business competitiveness
BOE
97.36%
The business revenue of mainland China accounted for 48.13%, and other Asian countries accounted for 40.50%, the Americas 7.64%, and the rest of the region less than 5%.
For TFT-LCD: 55,628 thousand square meters;
For AMOLED: 537 thousand square meters
★★★★★
Tianma
99.35%
Mainly domestic, accounting for 74.76%
In 2020, annual output of 303.21 million pieces
★★★★★
Visionox
97.37%
Domestic accounting for 50.41%
In 2020, annual output of OLED 14.8 million pieces
★★★
CPT Technology
68%
Domestic accounting for 83.41%
In 2020, annual output of 69.71 million pieces
★★
Everdisplay
100%
More than 90% of sales revenue from abroad
In 2020, the output for smartphones is 14.25 million pieces, for smart wearables is 12.31 million pieces, and for tablets/notebooks is 0.478 million pieces.
★★★
IVO
100%
Mainly overseas, domestic accounting for 33.92%
The output of TFT LCD is 887.33 thousand pieces in large-size
★★
Source: Forward-The Economist
Table 4. Business layout and competitiveness evaluation of Chinese panel enterprises
From the perspective of the OLED and TFT-LCD market segments:
The core players in the OLED market mainly include BOE, Visionox, TCL, Tianma, Everdisplay, AUO, Trulyopto, and Royole. Among them, BOE, Visionox, and TCL are more prominent due to their strong financial sources.
While in the TFT-LCD market, leading manufacturers include BOE, HKC, TCL, Innolux, AUO, Tianma Panda, CAIHONG, and IVO. Among them, BOE, TCL, Innolux, and AUO lead the Chinese TFT-LCD market due to their production capacity advantages.
The LCD panels of BOE, Innolux, HannStar, and Tianma are the sources for the production of our TFT-LCD modules.
Learn more about the manufacturing of TFT LCD: "Basic Manufacturing Knowledge and Product Concepts of LCD"