What is HDMI?
HDMI is a standard digital interface that will transmit crystal-clear audio and video signals seamlessly between various devices. It can effectively connect various multimedia sources (gaming consoles, HDTV, laptops, Blu-ray players, projectors, and more) to displays/receivers (monitors, projectors, or TVs) that deliver superior image and sound quality.
Historical Background of HDMI
In the beginning, there was DVI created by silicon image which was intended to be a computer video interface that provided a true Digital High Speed Video connection over a relatively short distance. It was commonly used for video, while separate audio cables were required for sound.
In order to meet the needs of the consumer electronics market, in December 2002, major electronics manufacturers such as Sony, Philips, Toshiba, Panasonic and Hitachi launched HDMI for the first time. The primary objective was to create a single, streamlined interface that could carry high-definition video and audio signals, eliminating the need for multiple cables and connectors.
Types of HDMI Interfaces
Type A HDMI
Type A HDMI is the most widely used HDMI cable. It's the standard HDMI size, 13.9×4.45mm. Most of the audio-visual equipment used in daily life is equipped with this type of HDMI. For example, the Xbox, Blu-Ray, projector, or TV.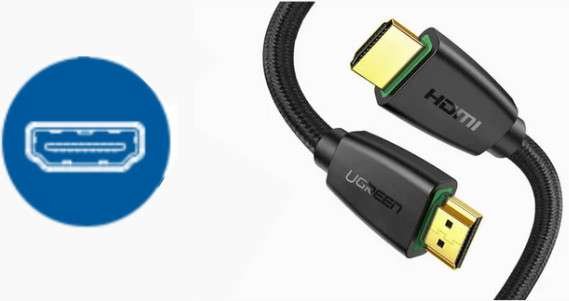 Mini HDMI
Mini HDMI is mainly designed for small devices. It is the smaller HDMI size, 10.42×2.42mm. This type of HDMI cable is also used with smaller technology like tablet and portable players.
The shape of the plug-in area will be similar to that of a normally-sized HDMI plug, but smaller.
Micro HDMI
Micro HDMI is the latest interface type, and the size is further reduced, 5.83 x 2.20mm. This interface is mainly used in small mobile devices, more suitable for portable and vehicle-mounted devices. For example, mobile phones, tablets, etc.
Usually, we can find the plug-in area at the bottom of the small device. The shape of the plug-in area will be similar to the mini-HDMI, but even smaller.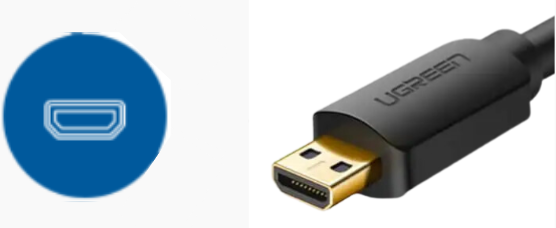 Classification of HDMI Version
The first HDMI was released in 2002. Since then, many different versions have come into existence. It's important to understand these different versions so that we can know the characteristics and parameters of each.
The following table is the summary of different versions.
| | | | | |
| --- | --- | --- | --- | --- |
| Version | Issue Date | Frequency | Bandwidth | Support |
| 1.0 | Dec. 2002 | 165MHZ | 4.95Gbps | Support 1080P/60Hz, original specification |
| 1.1 | May. 2004 | 165MHZ | 4.95Gbps | Support DVD-Audio |
| 1.2 | Aug. 2005 | 165MHZ | 4.95Gbps | Support SACD-Audio |
| 1.2a | Dec. 2005 | 165MHZ | 4.95Gbps | Enhance compatibility |
| 1.3 | Jun. 2006 | 340MHZ | 10.2Gbps | Supports TrueHD and DTS-HD audio |
| 1.4 | May. 2009 | 340MHZ | 10.2Gbps | Support 4K/30Hz, 3D, ARC, 100M network |
| 1.4a | Mar. 2010 | 340MHZ | 10.2Gbps | Enhanced 3D display |
| 1.4b | Oct. 2011 | 340MHZ | 10.2Gbps | Support 3D display 1080P/120Hz |
| 2.0 | Sept. 2013 | | 18Gbps | Support 4K/60Hz |
| 2.0a | Apr. 2015 | | 18Gbps | Support HDR |
| 2.0b | Mar. 2016 | | 18Gbps | |
| 2.1 | Jun. 2017 | | 48Gbps | Support 8K/30Hz, Dynamic HDR (dynamic HDR) |
Cable 1. Classification of HDMI Version
Benefits of HDMI
100% Digital
HDMI can transmit the no compression audio signals and video signals, including the Dolby Digital, DTS, and more recently, advanced formats like Dolby TrueHD and DTS-HD Master Audio.
Integration
Compared with DVI, the HDMI interface is smaller, and the optimal cable length of HDMI/DVI does not exceed 8 meters.
HDMI integrates video and multi-channel audio in a single cable, just one HDMI cable can replace up to 13 analog transmission lines, effectively solving the problem of messy and tangled connections behind home entertainment systems.
High Definition (HD)
HDMI supports high-definition video resolutions, including 720p, 1080i, and 1080p, as well as 4K, 8K, and beyond, delivering crystal-clear and sharp images.
CEC (Consumer Electronics Control)
HDMI devices can control each other and allow one remote control to operate multiple devices through CEC, simplifying user experience.
Plug and Play
HDMI supports EDID and DDC2B, so the devices with HDMI have the characteristics of "plug and play". There will be automatic "negotiation" between the signal source and the display device to automatically select the most appropriate video/audio format.
To Sum Up
Now, we know all about the different types of HDMI interfaces, as well as their history and versions. 
The HDMI interface has revolutionized the way we connect audio-visual equipment, providing a single cable solution for high-definition content transmission. Given its popularity and ease, the HDMI adapter board is one of the solutions we provide to our customers to drive the display in the initial stage and easy usage, saving time in driving the display in different interfaces.
If you have any questions about HDMI adapter board or displays, please leave a comment here.
There are other common display interfaces you may have interest
6 Most Common Types of Display Interfaces: MCU, SPI, RGB, MIPI, LVDS, eDP